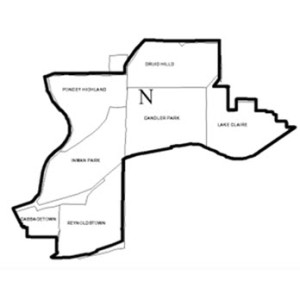 Click here for NPU-N Resources
CLICK HERE FOR MEETING SCHEDULE & LINK
The residents of NPU-N enjoy a tradition of civic participation and activism that has largely developed through the neighborhood and community organizations. The representativeness, efficacy, and legitimacy of these organizations serve as a unique resource of NPU-N. Therefore, the organization of NPU-N shall be based upon constituent organizations, representatives of which shall constitute an Executive Committee. There are seven neighborhood organizations and two business organizations. Each constituent organization shall have one representative on the Executive Committee.
NPU-N encompasses seven neighborhoods:
Cabbagetown Neighborhood Improvement Association (CNIA)
Candler Park Neighborhood Organization (CPNO)
Druid Hills Civic Association (DHCA)
Inman Park Neighborhood Association (IPNA)
Lake Claire Neighbors (LCN)
Poncey Highland Neighborhood Association (PHNA)
Reynoldstown Community Improvement League (RCIL)
The Representatives who serve on the Executive Committee of NPU N are appointed by these seven neighborhoods as well as by:
Little Five Points Business Alliance (L5PBA)
Little Five Points Center for Arts and Community (L5PCAC)
All residents of NPU-N are invited and allowed to participate in NPU activities. Resident shall mean any person 18 years of age or older whose primary residence is within NPU-N; or any corporation, business, organization, institution or agency which owns property or has a place of business or profession within NPU-N.
Neighborhood Planning Unit "N" (NPU-N) advises the City of Atlanta, including the Mayor, City Council, and any department or official of the City. Advice may be produced on matters affecting the environment of, the well-being of residents of, and the general livability of the neighborhoods within NPU-N.
By-Laws of NPU-N, as adopted 2020.
Matters shall include but not be limited to land use, zoning, housing, community facilities, human resources, social and recreational programs, traffic and transportation, environmental quality, open spaces and parks. NPU-N may also assist City agencies in determining priority needs for the neighborhoods, make recommendations on the City's Comprehensive Development Plan, and may review items for inclusion in the City Budget and make recommendations relating to budget items for neighborhood improvement.
NPU-N Resources

General Information [pdf]
Zoning Checklist [pdf]

Liquor License Review Process [pdf]
Alcohol License Questionaire [pdf]